A Range of Ethical Sportswear for Your Eco-Warrior Wardrobe
Looking for ethical sportswear that's sustainable, fair trade, and looks awesome? Maria Malo's got you covered (literally).
Guest post and product review by Grace Austin, co-creator of Extreme Nomads.
Last year was a big year in our household for getting on top of our eco-conscious efforts.
We started composting.
We attacked our plastic consumption.
We majorly reduced our household waste.
As well as tackling some bad habits (and making some newer, greener ones) it was also the year that I embarked on the #NothingNew challenge- whereby I didn't purchase a single new item of clothing all year (and if you know me at all, you know this is actually, like, extremely impressive).
New leaves were turned over, I tell ya!
But there was still one area that I felt like I was kiiiinda dropping the ball:
Sportswear.
More specifically, sustainable sportswear.
Ethical workout clothes were noticeably absent in my new micro-wardrobe; but there were still plenty of leggings, sports bras, bikinis, and more- and I was going through these items as fast as ever, simply because they needed to be replaced so often.
Not only was I buying (and let's face it, ruining) sportswear at an astronomical rate, but the waste generated from my purchases made the situation even worse. And that's BEFORE we get into the dirty details about where these items came from, the substandard circumstances they were (probably) produced in, and the harmful environmental impact of the materials used to make them.
If you're a sporty person with an eye for the environment, you're bound to have come across this dilemma.
I desperately wanted to find an alternative that was
a) eco friendly, natural, and ethically made
b) comfortable- and just the right amount of sexy
c) practical enough that I could wear it doing all kinds of high impact sports- kitesurfing, wakeboarding, mountain biking, and more.
Oh, and it would also help if I could, y'know, actually afford the damn things (affordable ethical clothing is hard to come by, yenno).
Do I ask too much?!
I mean… I don't think so….
But finding the ethical sportswear line that existed in my imagination was proving to be pretty darn difficult out in the real world.
So guys, you can imagine how ECSTATIC I was when I finally discovered a line of primo ethical sportswear that's comfortable, practical, looks awesome, but most importantly is sustainable, totally natural, and 100% fair trade.
Ummm, did I just answer all your wishes at once?!?
So without further ado, let me introduce to you the ethical sportswear line by Maria Malo.
With a brand ethos that's all about using fair trade fashion as a force for positive change- not only in the fashion industry itself- but in our own mind's as consumers, the clothes in this line are created using natural, organic materials like bamboo, TENCEL®, and regenerated sea plastic.
Here's what you need to know:
The materials
The entire collection of ethical activewear is made using a small range of carefully selected materials which are natural, sustainable, organic, and ethically produced.
Organic bamboo
If you're in the market for sustainable activewear, you absolutely have to jump on the bamboo bandwagon. Seriously, the stuff is magical.
Organic bamboo plays a starring role in this ethical sportswear collection.
Take a quick peek at the full collection and you'll see all kinds of organic workout clothes made from the stuff; everything from running shorts and leggings to sports bras and organic yoga wear.
The super awesome thing about bamboo sportswear is that it's extremely lightweight, soft, moisture wicking, and breathable- which is just what you want when you're running around sweating like a crazy person.
TENCEL®
Remember the tencel stuff I mentioned just a minute ago? That's another fabric that features in a ton of Maria's items- and it's actually a pretty interesting thing in itself:
Tencel is a man-made fabric that's similar in style and texture to rayon, but it's made entirely from reconstituted plant fibers such as bamboo and eucalyptus (which are two of the fastest growing plant resources in the entire world).
In fact, the process of producing tencel has actually won awards for its eco-friendliness and innovative technology.
ECONYL®
Maria Malo's swimsuits, surf suits, and bikinis are made from econyl- a fabric made entirely from regenerated sea plastics, such as ghost fishing nets and nylon waste.
Now, if wearing a bikini made from sea plastic might sound- well… a little bit uncomfortable to you, I don't blame you. But in reality, econyl fabric is so soft and silky; you'd never believe it's made of plastic waste.
The process
In addition to environmental protection, the Maria Malo brand is also hell-bent on ensuring they have only a positive impact on the people and communities who contribute to the production of each item.
To that end, all of the clothes and sustainable sportswear items are totally fair trade and ethically produced.
Let's take a look at some of the top picks from the collection:
Top picks from Maria Malo's ethical sportswear collection
Organic bamboo running shorts
Super soft and cute- I was instantly in love with these when I tried them on. The organic bamboo fabric is craaaazy soft- with just the right amount of stretch.
You can also pull the little drawstrings on the sides to give the shorts a ruched look, if that's what you fancy. They come in a whole bunch of different colours- from punchy teal to classic black.

Organic bamboo leggings
Gone are the days of me buying fast fashion leggings 457 times a year; these leggings are ridiculously good quality and feel like they're probably going to last for many, MANY years to come.
The soft, breathable fabric is absolutely ideal for hikers, yogis, and cyclists (yup, even for me living in the Fires of Mordor- uh, I mean… Thailand). Magically, they still feel super comfortable even when you've worked up a serious sweat.
Also, I love how flattering the high waist is!
Regenerated sea plastic bikinis
Guys, seriously, I've never ever EVER felt any swimsuit material that's this soft before in my life. Honestly, if you told me the bikini top was made of pure silk, I'd 200% believe you.
But relax your slacks, no silk worms were harmed in the making of these bikinis!
My pick of the bunch is the cheeky bottoms, featuring a wide band around the waist (ideal for security when you're ripping on the water) and juuuust enough cheekiness to be- well… cheeky.
Regenerated swimsuits
Being a kitesurfer, I'm constantly on the lookout for awesome one-pieces that I can wear during a good, tough, saltwater session.
This swimsuit is, to me, the perfect blend of pretty and practical- featuring a sturdy zip-up back, boxer brief bottoms, and just a hint of a racer back cut on top. It has a subtle nod to that classic vintage swimsuit look, but the bold colours and slightly sporty cut gives it a fresh, modern look.
Best of all, the econyl fabric is extremely lightweight, soft to the touch, and water/dirt resistant.
Organic bamboo bodysuit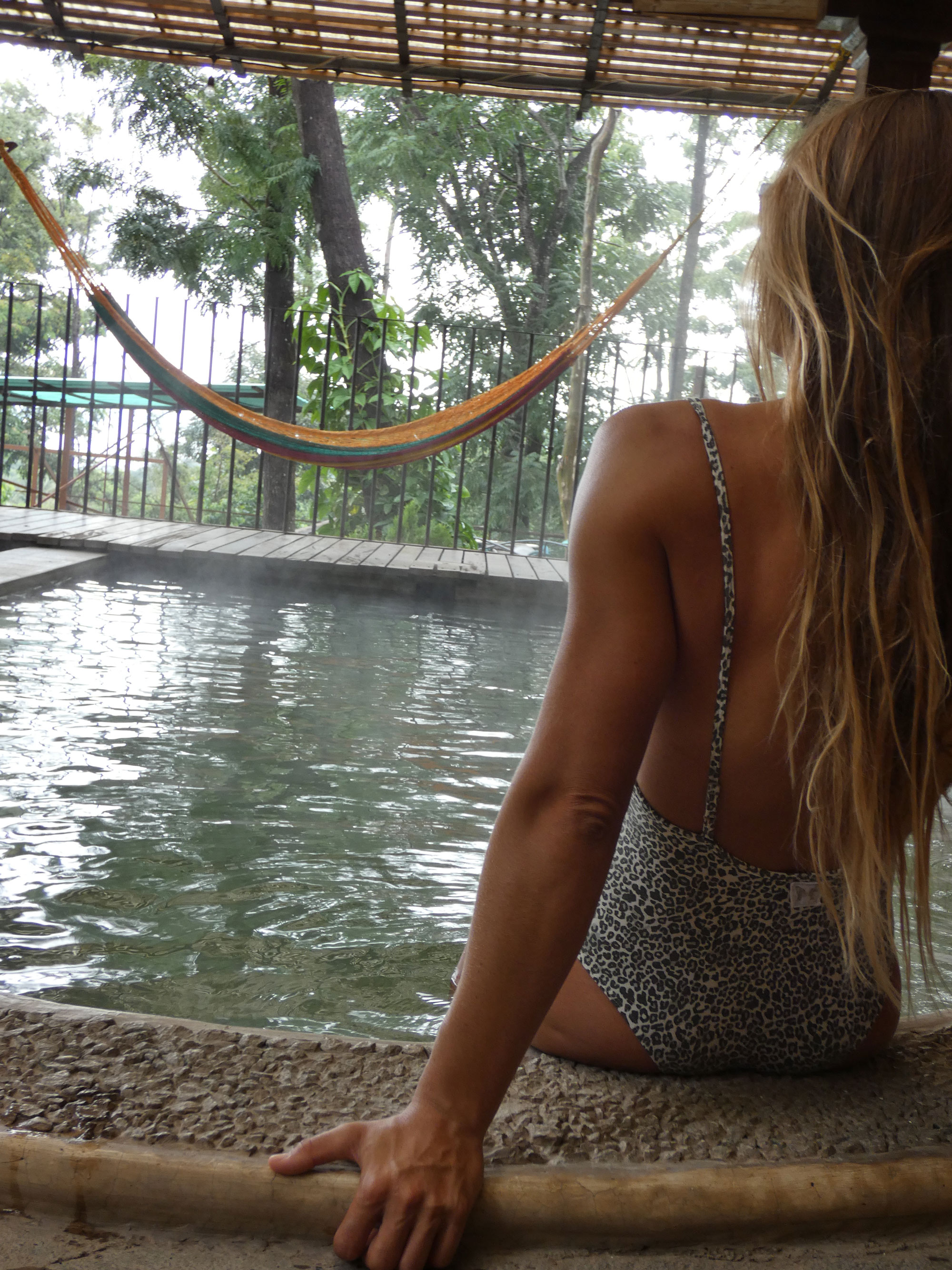 If your ethical sportswear needs primarily revolve around yoga, this bodysuit should be right up your street.
Once again featuring that super soft, stretchy, breathable bamboo material, this bodysuit is perfect for slipping on under a pair of loose pants (or shorts) on your way to a yoga sesh. I also wear it to the beach as a onepiece.
Final thoughts on Maria Malo's ethical sportswear line
Ethical athletic wear isn't always the easiest thing to find- especially in the shops.
But for me? Maria Malo is the real deal.
Every item in her sustainable sportswear collection is made from natural, organic, or sustainable materials that are not only good for the planet, but good for your skin too.
And most importantly, when you factor in the lifespan of the products we've reviewed today you'll find that you're actually more likely to save money in the long term because you won't have to replace this stuff every 5 minutes.
This ethical activewear is built to last.
So whether it's your organic yoga clothing, sustainable workout clothes, or simply a badass bikini made from sea plastic- you can be confident that your money will be making a positive impact on Mama Nature (and, y'know, your wardrobe).